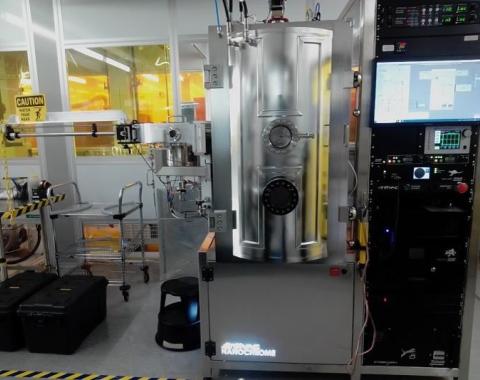 The Nanochrome I evaporator is capable evaporating metal and dielectric thin film layers by electron beam evaporation with low energy ion cleaning. The system provides a very high level of control for materials through manual operation, or closed loop control system and the pump down operation is fully automated by Intlvac's "Nanocon" system controller.  The electron beam gun is set up for "lift off" geometry, with a corresponding domed wafer holders.  Sample holder options include the following:
One 150mm wafer

One 6" wafer

One 200mm wafer

One 8" wafer

Three 100mm wafers

Three 4" wafers

Parts/pieces mounted to carrier using clips
Wafers are loaded to the chamber via a load lock to minimize pump down wait times.  A large 17" user interface running a user friendly interface on Windows 10 allows easy access to the machine and its operating parameters.  The system can automatically deposit multilayer thin films with a multi-pocket electron beam gun or from a thermal evaporation source.  An End Hall Ion Source is available for substrate cleaning along with quartz lamp heaters to provide degassing of substrates and conditioning of the chamber prior to deposition.  The ion source also allows for reactive evaporation with either the electron beam gun or the thermal sources using oxygen or nitrogen gasses.